Daniel Nashed
16 June 2022 10:04:37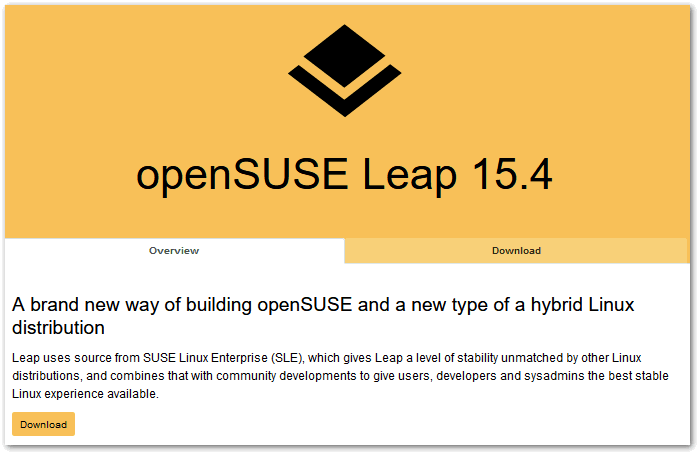 openSUSE Leap is one of the platforms I really care about. Not just because they are German and it was the first distribution I used very long time ago, when software was distributed on floppy disks.
They do a lot of things right and I have a mix of servers.
I have not used the on-line update function. And I would wait for that for a while.
But they already released the Docker base image and I had to install a new lab machine on my notebook for travel anyway.
Here is where you get the full ISO. And also the Network Image (173.0 MiB) will work.
In earlier versions, there have been issues using the smaller images. You had to configure the repositories manually.
This is now working very well and it the best setup wizard on Linux I know of.
https://get.opensuse.org/leap/15.4/
Here is the current kernel version as of last night's update:
Linux localhost 5.14.21-150400.22-default #1 SMP PREEMPT_DYNAMIC Wed May 11 06:57:18 UTC 2022 (49db222) x86_64 x86_64 x86_64 GNU/Linux
OpenSSL 3.0.1 support
SUSE added OpenSS 3.0.1. But in contrast to Redhat who moved to Openssl 3.0.1 with RHEL/CentOS Stream 9.0 completely, SUSE offers it in a separate package "openssl-3".
This might be helpful for some software. Also OpenSSL 1.1.1 has been updated and I wonder why SUSE Leap 15.3 is not getting this update ( my Leap 15.3 server is still at OpenSSL 1.1.1d 10 Sep 2019)-
Here are the current versions as of today.
openssl-3
openssl-3 version
OpenSSL 3.0.1 14 Dec 2021 (Library: OpenSSL 3.0.1 14 Dec 2021)
openssl version

OpenSSL 1.1.1l 24 Aug 2021 SUSE release 150400.5.14
ZFS Support
I have not managed to get ZFS installed last night. And I probably wait a bit until the official repo is listed.
Building Docker images
An easy start to look into it, would be a Docker container.
I have updated our DNUG Lab environment last night via
./build.sh domino 12.0.2 -capi -verse -from=opensuse/leap:15.4
And I added new tags leap15.4 and leap15.3 in the develop branch to make it easier to select. -from=leap continues to point to whatever SUSE decides to be latest.