Daniel Nashed
15 December 2008 21:48:15
Today I got the question about the maximum size of a database. The current limit is still 64GB.
TN
#21093509
says the certified limit is 64GB but customers reported that databases do not work beyond this size.
It seems to be a limit in the internal database structure.
However with DAOS in Domino 8.5 the limit might change. The physical file and the structure of the NSF will be much smaller because the objects are stored in NLO (Notes Large Object) files in a separate file-system.
To verify I have created a test database a while ago with a beta release of 8.5
The documents have been created by cloning (opening the doc and saving it with a new UNID) .
Creating 10000 documents with a attachment size of 100MB each did only take a couple of seconds.
I just did the test to have a better understanding in which situations the files are still causing I/O and in which cases the reference is passed. Copying documents form one to another database is really fast. This is for example also helpful when the mail-router is delivering mail to local mail-databases.
Here is how it looks with 10000 documents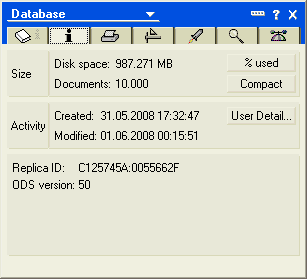 So we have a database with almost 1 TB of data.
Not sure how much sense it would make but it would be possible with a DAOS enabled database ;-)
-- Daniel