Daniel Nashed
15 January 2022 08:37:24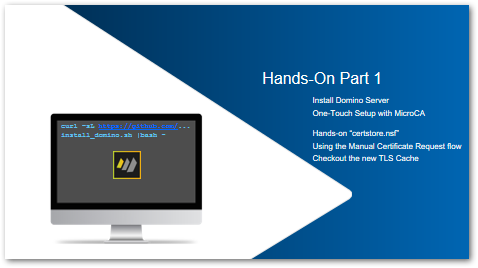 This is going to be the most interesting workshop I ever did.
I spent a lot of time preparing the workshop about awesome new Domino 12 functionality that deserves it to be features like this.
The presentation is done and the automated server setup is prepared.
I am working on some detailed fit and finish to make it an awesome experience as well :-)
Fully automated Domino lab setup
We will use One-Touch Domino setup for Linux with One-Touch setup in combination with my new templating to bring up lab servers.
This will be the first, but definitely not the last workshop using this technology to provide a lab server for every participant.
Domino 12 with One-Touch setup makes it easy to automate setups.
Domino 12.0.1 Certificate management
We will cover all details including the latest features and there will be no questions unanswered.
This includes the setup, Let's Encrypt, adding external DNS providers, integrations and many more details.
And it is going to be all hands-on on an own Linux machine with production style DNS setup.
But we also cover certificates in general.
I am looking forward to the workshop on Tuesday.
PS:
This is a commercial workshop in German for DNUG.
But we could repeat it in future in English...
-- Daniel