Daniel Nashed
9 December 2021 13:31:00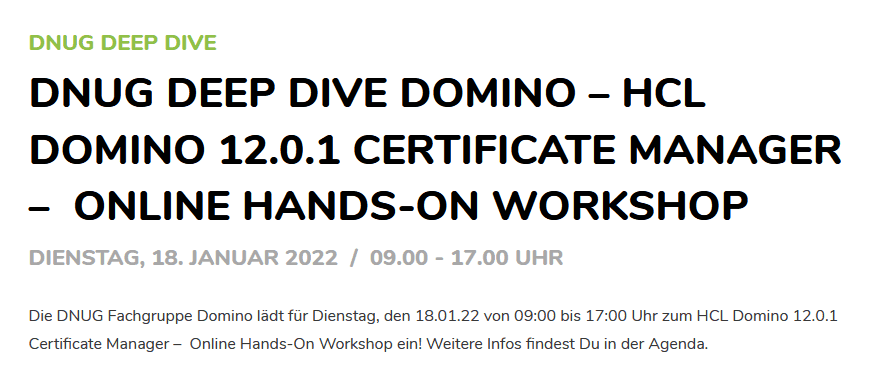 Agenda:
https://dnug.de/event/dnug-deep-dive-domino-hcl-domino-12-0-1-certificate-manager-hands-on-workshop/
Tickets:
https://www.eventbrite.de/e/dnug-deep-dive-domino-certificate-manager-hands-on-workshop-tickets-215085244757
If you ever wanted to know more about certificates and if you want to know what's new in Domino 12.0/12.0.1, this workshop is for you! ;-)

It will be a remote hands-on workshop with Domino 12.0.1 on hosted Linux servers with automated setup - similar to earlier events we hosted at DNUG.
We will look into all the details of certificate related features introduced in the Domino 12 code stream.
You will learn all about the details, best practices and experience from the field.

You should have a basic understanding of Domino security and certificates, but we will start at zero and will also cover advanced topics.
See the agenda for details. There is a early bird rate for members and also external guests.
The first round of the workshop will be in German, because DNUG is a based DACH organisation. But we can repeat it in English...
Daniel